Our wines include Zinfandel, Merlot, Muscat, Sauvignon Blanc, Cabernet Sauvignon, Riesling, Sangiovese, Syrah, Chardonnay, Gewurztraminer, and Viognier. Prices range from $13.99 to $19.99.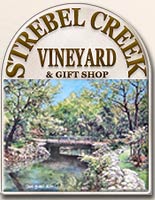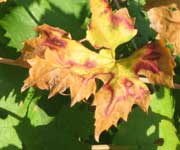 W

ine­mak­ing is a chal­len­ging but re­ward­ing hob­by.

Flood, drought, scald, frost; wine­mak­ers face many un­pre­dict­able ad­ver­si­ties.



H

ow­ever, with ex­per­i­ence, pas­sion, and the help and sup­port of fam­i­ly and friends, Strebel Creek Vine­yards has man­ag­ed to pro­duce a wide va­ri­e­ty of de­lec­ta­ble wines.

Come visit us at
in Northwest Oklahoma City
and find out for yourself!

We Invite You to Enjoy the Ambiance
of our patio by the creek with a glass of your favorite wine!